Series: Psalms for the Summer
What Does the Worst Bring Out in You?
August 20, 2023 | Peter Rowan
Passage: Psalms 63:1-11
Summary
What do you do when the worst happens to you? What does the worst bring out in you? When you lose your job, or when your spouse criticised you for the 25th time today, or when your children decide you just are old and can therefore be dismissed as not knowing anything. What about when the tragic happens: when you have another miscarriage, when COVID sticks around and keeps sticking around? What do you do? What do you do with God? David has some of the worst things happen. His own son kicks him out and some of his closest, most trusted advisors leave him and plot against him. He's out in the wilderness, not just physically, but emotionally and spiritually and relationally. As Gordy Zubrod asked us a few weeks back: Does it break you are remake you? Or, similarly, what Psalm 63 asks us: do we give up on God or do we long for him all the more? What do you do? What does the worst bring out in you?
Transcript
This week was a week for hospitals. In a normal month I might go visit someone in the hospital 1 time. This week I was at the hospital four times.
Many of you know that our dear sister Mary Watts is down at Harrisburg Hospital. Last Saturday she was hiking with her walking group up in Lewiston. Last Sunday she was here early to make coffee for all of you. Mary is 94. And her heart was a little off Monday so she called the cardiologist and was sent to the hospital. The doctors are still monitoring how her body is taking to different medications. A week in the hospital.
Yesterday morning Don Koller passed away. He went into Community General Hospital on Aug 4th. We spent time talking last week together, but this week he couldn't really talk. We prayed, we read Scripture, we sang. Don was 89.
Cindy Russo texted me Wednesday night after I got back from painting here with a bunch of you. Her brother Brian had gone in that morning for his first treatment for cancer. He passed away that night. Over at West Shore Hospital friends and family gathered together to mourn, there was laughter and there was prayer, but mostly it was shock and mourning. Brian was 59.
Ed Camp and I had breakfast together Thursday morning at the Peach Tree. We had a great time, talking and laughing. But he reminded me about his oldest son Eddie. Eddie died when he was 21 years old in a car accident on the way to the shore. Ed said it was the worst day of his life.
It reminded me of one of our close family fiends. Many of you know I was home about a month ago for a couple weddings and a funeral. The funeral was for a woman who I would have considered my second mom growing up. She had Alzheimer's for the past dozen years and died at 72. But what Eddie's death reminded me of was a bike accident that happened to her daughter. Little Chelsey. She wasn't even ten years old. She was at my parents house and she left their house with a friend and they went through a blind corner and she was hit and run over by a car. When the car slammed on it's breaks she was already behind the car. She was airlifted to Harbourview hospital in Seattle where she spent month after month recovering and her parents and my family and all kinds of friends spent days upon days sitting with her wondering if and how she would make it through. She's doing really well. She follows Jesus and spoke beautifully at her mom's funeral.
What does the worst bring out in you?
I'm not totally sure what you think the worst is, but there is a lot of really horrendously awful things that happen in this life. Some of you have experienced some of those things. Maybe it's been children who have grown up and don't want to have anything to do with you ever again. Maybe it's been divorce and unfaithfulness. Maybe it's mental illness that persists and worsens and the medication seems to have all of the bad side effects that drone on at the end of those commercials. Maybe you had another miscarriage and another relationship fall apart. Maybe your singleness feels like the worst. Or maybe your marriage feels like the worst. Not getting picked for the basketball team at recess felt like the worst and your best friend moving away to another state can feel like the worst. I have a friend who's house burned down in college. He lost everything. His guitar and his books and his pictures.
What does the worst bring out in you?
The Bible says a good deal about how awful the world is and about how prevalent suffering is. The Bible isn't just some romantic text that is given to make us feel good about ourselves and our place in the world. Not really at all. A whole lot of it has to do with hardship and suffering and the worst happening. And the Bible gives us some clues sometimes for the why of these things, but it doesn't' really answer all of that completely.
We can read at the end of the book of Genesis Joseph tell his brothers who had sold him into slavery (sounds like one of the worst things that could happen), "You meant it for evil, but God meant it for good." (50:20), but most of the time we don't get to see like Joseph did any good at all that comes out of our worst experiences.
The reality is that for many people when the worst happens they give up on God. My guess is that has been your temptation. It's certainly been mine before. When the worst happens, do you run from God or to him? It seems that those are most often our options and that is most often what happens. Gordy Zubrod a couple weeks ago said it like this: Does it break you or remake you?
What does the worst bring out in you?
I keep asking this because the little title in our Psalm, Psalm 63, "A Psalm of David, when he was in the wilderness of Judah." Doesn't sound like much until you ask "When was he in the wilderness of Judah?"
And the answer is when he was kicked out of Jerusalem by his own son Absolom.
Absolom was David's third son. His name means peaceful, but his life did not bring peace. Absolom had just about everything going for him. Listen to this:
(2 Samuel 14:25-26)
25 Now in all Israel there was no one so much to be praised for his handsome appearance as Absalom. From the sole of his foot to the crown of his head there was no blemish in him. 26 And when he cut the hair of his head (for at the end of every year he used to cut it; when it was heavy on him, he cut it), he weighed the hair of his head, two hundred shekels by the king's weight.
He was the king's son. He was handsome. The people loved him. But he was greedy and he was cunning and he was prideful. And he plotted against his very father.
(2 Samuel 15:13-14)
13 And a messenger came to David, saying, "The hearts of the men of Israel have gone after Absalom." 14 Then David said to all his servants who were with him at Jerusalem, "Arise, and let us flee, or else there will be no escape for us from Absalom. Go quickly, lest he overtake us quickly and bring down ruin on us and strike the city with the edge of the sword.
And he didn't just plot against his father, but we know that plotted against his father with his Father's own closest friends and advisors.
30 But David went up the ascent of the Mount of Olives, weeping as he went, barefoot and with his head covered. And all the people who were with him covered their heads, and they went up, weeping as they went. 31 And it was told David, "Ahithophel is among the conspirators with Absalom."
There very people that David trusted the most went with his beloved son Absolom and they plotted King David's demise! I could think of lots of things that might be the worst, but this situation here would be high among them. My own children plotting my demise with my closest friends and advisors. And David along with a lot of others who remained faithful to him, set out to the wilderness of Judah.
And this Psalm is written in that context. This Psalm is written when all of that is happening!
David is in a dry and weary place. He is in a place where clinging to God is a must. Verse 9 tells us hat there are those who are seeking to destroy his life! There are liars that are plotting against him, spreading lies again him.
What does the worst bring out in you? Does it break you or remake you?
There are three section to this Psalm and let me just tell you three things that the worst did to David from those three sections. By the way, I got these three from the brilliant little commentary on the Psalm by Derek Kinder.
David found in the midst of the worst that his:
1. Desire was God
1 O God, you are my God; earnestly I seek you;
my soul thirsts for you;
my flesh faints for you,
as in a dry and weary land where there is no water.
2 So I have looked upon you in the sanctuary,
beholding your power and glory.
3 Because your steadfast love is better than life,
my lips will praise you.
4 So I will bless you as long as I live;
in your name I will lift up my hands.
This feels rather amazing. What he doesn't say is "earnestly I seek my restoration as the true king." or "earnestly I seek the downfall of this wicked son of mine" or any of the rest of this. One of the things that suffering does for us is it focuses us. One of the things that the worst does for us, is to cause us to desire the great Shalom of God in the New Heaven and the New Earth.
He remembers looking upon God in the sanctuary. In the place of worship. And you need to remember that the tabernacle and later the temple were adorned with the remembrance of Eden and the angelic beings of Heaven. To be with God in the sanctuary was to remember a time of peace and look forward to the rejoining and heaven and earth in peace.
One of the things that can be brought out in you in the midst of the worst is a greater longing for God and the place and the peace of God.
This point is sort of reinforced for us in this second section of the psalm.
David found in the midst of the worst that not only was his desire was God, but also that his:
2. Delight was God
5 My soul will be satisfied as with fat and rich food,
and my mouth will praise you with joyful lips,
6 when I remember you upon my bed,
and meditate on you in the watches of the night;
7 for you have been my help,
and in the shadow of your wings I will sing for joy.
8 My soul clings to you;
your right hand upholds me.
He's probably laying there in the wilderness of Judah, camping out in military tents and wondering if this will be his demise. he could be thinking of the festivals and the palace of Jerusalem and his nice bed. But he is saying that God will be his satisfaction, God will be his delight.
Now I want you to think on this for a moment. Part of what is so horrendous about the worst in this world is that it is almost always related to the best.
Why does David find himself in this horrible place and why is it the worst for him? Because children are a delight and a gift. Because Proverbs 27:9 Oil and perfume make the heart glad, and the sweetness of a friend comes from his earnest counsel.
The worst is when the best is taken or harmed or becomes the betrayer. So many of your stories of the worst in your life have to do with that is twisted or taken. Abuse and betrayal, bodies that fail and desire that cause ruin. Good things, but good things that we never meant to be your ultimate delight.
One of the things that the worst can show us is that only God can be our delight and our satisfaction. It's like what C S Lewis says when he says that pain is God's megaphone to rouse our deaf world.
David found in the midst of the worst that not only was his desire was God, and his delight was God, but also that his:
3. Defense was God
9 But those who seek to destroy my life
shall go down into the depths of the earth;
10 they shall be given over to the power of the sword;
they shall be a portion for jackals.
11 But the king shall rejoice in God;
all who swear by him shall exult,
for the mouths of liars will be stopped.
And let me end with this.
It's unbelievable how many parallels there are in the story of Absolom to the story of our Lord's passion and suffering. But let me point out to you the clearest example.
We heard from 2 Samuel 15. Let me read it again.
30 But David went up the ascent of the Mount of Olives, weeping as he went, barefoot and with his head covered. And all the people who were with him covered their heads, and they went up, weeping as they went. 31 And it was told David, "Ahithophel is among the conspirators with Absalom."
Years later we can read this in Luke 22:
39 And he came out and went, as was his custom, to the Mount of Olives, and the disciples followed him. 40 And when he came to the place, he said to them, "Pray that you may not enter into temptation." 41 And he withdrew from them about a stone's throw, and knelt down and prayed, 42 saying, "Father, if you are willing, remove this cup from me. Nevertheless, not my will, but yours, be done." 43 And there appeared to him an angel from heaven, strengthening him. 44 And being in agony he prayed more earnestly; and his sweat became like great drops of blood falling down to the ground. 45 And when he rose from prayer, he came to the disciples and found them sleeping for sorrow, 46 and he said to them, "Why are you sleeping? Rise and pray that you may not enter into temptation."
47 While he was still speaking, there came a crowd, and the man called Judas, one of the twelve, was leading them. He drew near to Jesus to kiss him, 48 but Jesus said to him, "Judas, would you betray the Son of Man with a kiss?
Friends, believe me, I don't always know what to make of the worst that happens in the this life. I know that it brings up all kinds of questions of God's goodness and his ability and all of that. What do we do when we are betrayed? What do we do when we are abandoned? What do we do when people spit at us and mock us and utter all kinds of false things about us?
Our Lord Jesus, even more that great King David, committed himself to the love and care of his heavenly father when he was betrayed and abandoned and lied about and mocked and even killed. And the love and care of his heaven father was perfect in it all and brought him through. That will be the same for you.
Series Information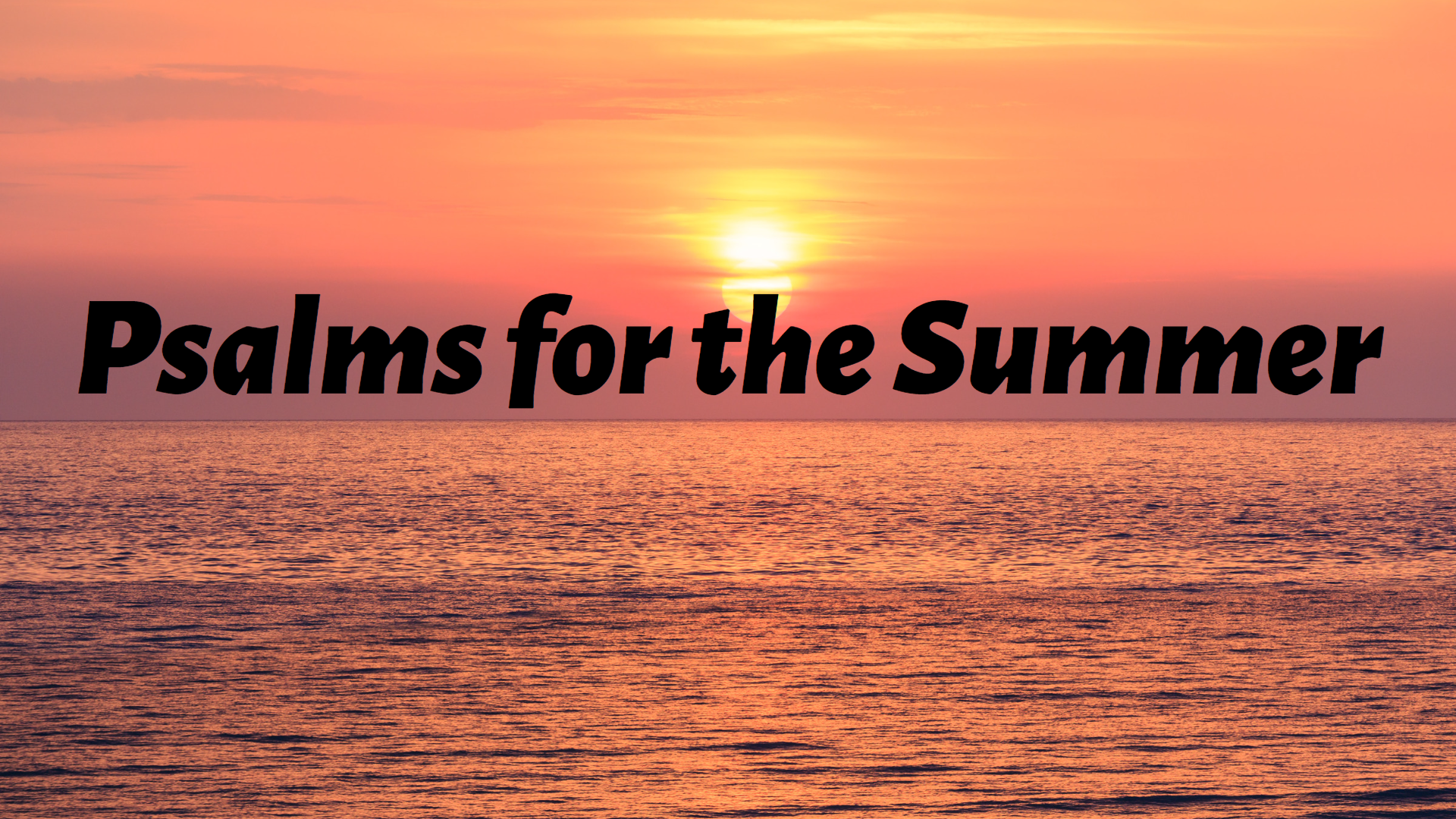 Every summer Peter and an occasional guest speaker take us through the Psalms. Of the Psalms Luther said " the Psalter is a book of all the saints, and everyone, whatever his situation may be, finds psalms and words in it that fit his situation and apply to his case so exactly that it seems they were put in this way only for his sake..."