Series: Psalms for the Summer
Confidence in God
July 09, 2023 | Peter Rowan
Passage: Psalms 60:1-12
Summary
Psalm 60 is sort of a strange psalm. The heading that we are given in the Hebrew is the longest in the Psalms. It takes up two verses in the Hebrew. And the heading speaks of victory, but the psalm puts us in a place of despair and or crying out for God to do something. Like David, our lives are often filled with sorrow. The travail of this live is deeply hard, sometimes unbearable. David's life, even as king, could be like ours, yet David speaks in the confidence of God.
Transcript
We are looking this morning at Psalm 60. Psalm 60. Psalm 60 is sort of a strange psalm. The heading that we are given in the Hebrew is the longest in the Psalms. It takes up two verses in the Hebrew. And the heading speaks of victory, but the psalms puts us in a place of despair and or crying out for God to do something.
Before I jump into why I think this makes sense, let me tell you a story.
A ship went down in a storm, and only one man survived. He was fortunate enough to land on an uninhabited island in the South Pacific. With just a few items in his pocket, he was able to build a small shelter to protect himself from the rough weather they often experienced.
Once the shelter was built, the man had one goal: to find a ship that could rescue him and take him home to his family. Every morning the same routine, scan the horizon for ships. Every afternoon the same thing. Not wanting to miss any chance of being saved, the man would forage for food in the early evening.
One evening, as he completed his foraging campaign, he returned to see his shack in flames. Lightning had apparently struck while he was trying to find food. At this point he realized that not only had his shelter burned up, but all his tools as well. Everything was lost.
In a state of deep discouragement, the man sat on the beach contemplating death, wondering whether there was any hope left for him having lost everything. Tears rolled down his cheeks as he contemplated a bleak future. Eventually his exhaustion gave into sleep.
The Bible doesn't shy away from experiences like this. When our hope really does seem lost. When the bad thing gives way to the even worse thing. When you go from jumping out of the frying pan and into the fire. When COVID turns into long COVID. When you lose your job only to then lose your girlfriend. When you have the experiences of being kicked down when you are up and then being kicked when you are already down. Proverbs 13:12 tells us "Hope deferred makes the heart sick." but we also know that sometimes hope deferred just doesn't just make the heart sick but can lead to a sort of despair. Our hope deferred can be aggravated. We hear the Lord tell us that there will one day be a time of no more crying, or tears or pain anymore, but do our bodies really need to keep deteriorating this much until our death? Why are our muscles the strongest when we are only 25 years old when we then go on to live so much longer after that?
(Eccl 2:22-23) 22 What has a man from all the toil and striving of heart with which he toils beneath the sun? 23 For all his days are full of sorrow, and his work is a vexation. Even in the night his heart does not rest. This also is vanity.
Days can be full of sorrow that lead to sleepless nights full of sorrow.
The sadness we experience of our favorite team loosing the World Series is real, but as we grow we learn the deeper cries of our hearts. And why are most of our deepest heart aches related to the pain inflicted by those we love? The abandonment of parents, the infidelity of a spouse, the relational distance of children, siblings who only seem to be in life for themselves and not have a care for you? Friends that were once so close who have no time for you.
And we hear that all the hairs of our head are numbered by our father and that not one sparrow falls to the ground apart from his will. And we are told that in Matthew 10 in the context of being told not to fear and right after we are told that brother will deliver brother to death, and father child and children will rise up against parents.
The pain, the sorrow, the travail of this life is deeply hard, unbelievably unbearable at times and yet in the midst of this, David speaks to a confidence in God.
I just want you to hear how bad it gets first.
Consider the imagery of verses 1-3
1 O God, you have rejected us, broken our defenses;
you have been angry; oh, restore us.
2 You have made the land to quake; you have torn it open;
repair its breaches, for it totters.
3 You have made your people see hard things;
you have given us wine to drink that made us stagger.
Let's take the last one first.
Drunkenness
The idea of having be dealt a blow so hard that you can barely stand. You're so tired with the sleepless nights of worry over your children, with the exhaustion of work that brings no satisfaction, with the application after application that has been rejected and you just can't even see well. You can't walk well. You can't speak well.
The Bible actually rather often speaks of the judgment of God with the imagery of drunkenness.
(Psalm 75:8)
8 For in the hand of the Lord there is a cup
with foaming wine, well mixed,
and he pours out from it,
and all the wicked of the eartth
shall drain it down to the dregs.
(Jeremiah 13:12-14)
12 "You shall speak to them this word: 'Thus says the Lord, the God of Israel, "Every jar shall be filled with wine." ' And they will say to you, 'Do we not indeed know that every jar will be filled with wine?' 13 Then you shall say to them, 'Thus says the Lord: Behold, I will fill with drunkenness all the inhabitants of this land: the kings who sit on David's throne, the priests, the prophets, and all the inhabitants of Jerusalem. 14 And I will dash them one against another.
(Isaiah 51:17)
17 Wake yourself, wake yourself,
stand up, O Jerusalem,
you who have drunk from the hand of the Lord
the cup of his wrath,
who have drunk to the dregs
the bowl, the cup of staggering.
But the imagery of drunkenness is preceded by the imagery of an earthquake.
Earthquakes
Verse 2
2 You have made the land to quake; you have torn it open;
repair its breaches, for it totters.
Probably many of us remember pictures from the earthquakes this February in Turkey. Absolutely devastating. Maybe you remember the Haitian earthquake in 2010. The devastation was so bad that the Haitian government estimated that it killed between 100,000-160,000 people. My mom went down afterwards to help in recovery efforts. My dear friend Wilson went down as a structural engineer to aid in rebuilding. Melise, my wife, went down a couple years later as a Physical Therapist. Devastation.
But it's the first image, the image in verse 1, here that is really bad.
Rejection
O God, you have rejected us, broken our defenses;
you have been angry; oh, restore us.
You see, the historical context is really key here. Hear it again:
"when he strove with Aram-naharaim and with Aram-zobah, and when Joab on his return struck down twelve thousand of Edom in the Valley of Salt."
Ok, I know this isn't the most well-known story from the life of David, but here is what is going on: David is fighting along the Euphrates River, East of Israel, and while he is over there, away from Jerusalem, the Edomites take advantage of him being away and stage an uprising! David dispatches Joab (one of his main military leaders) to go back home and take care of the Edomites and then he follows them home after this battle out East.

Here's what you need to know though to understand this rejection.
The Edomites were the descendants of Esau. Israel were the descendants of Jacob, Esau's brother. Jacob and Esau were the sons of Isaac, the son of Abraham. And this family connection is mentioned many times in the Bible!
Listen to just two of them:
Deuteronomy 23:7: "Do not despise an Edomite, for the Edomites are related to you."
Numbers 20:14 "'This is what your brother Israel says: You know about all the hardships that have come on us.'"
The Edomites take advantage of the Israelites while they are off at war and the Edomites are their relatives!! When David was already in the thick of things, it got worse because of his own relatives!
Now, here's what's really kind of wild in this: God seemed to be giving David a great deal of success in his endeavors and yet, in this passage, we hear David crying out to God to not reject him, to not make an earthquake come upon him, to not judge him with the wine of judgment!
And in all of this, what we are really being taught is a complete confidence in God in the midst of this frying pan into the fire experience!
So the despair leads to a confidence:
4 You have set up a banner for those who fear you,
6 God has spoken in his holiness: W
With exultation I will divide up Shechem
and portion out the Vale of Succoth.
7 Gilead is mine; Manasseh is mine;
Ephraim is my helmet;
Judah is my scepter.
8 Moab is my washbasin;
upon Edom I cast my shoe;
over Philistia I shout in triumph.
"All of your enemies are in my hands", says the Lord.
And verses 9-12 lead us again through this saga through despair into confidence:

9 Who will bring me to the fortified city?
Who will lead me to Edom?
10 Have you not rejected us, O God?
You do not go forth, O God, with our armies.
11 Oh, grant us help against the foe,
for vain is the salvation of man!
12 With God we shall do valiantly;
it is he who will tread down our foes.
Friends, brothers and sisters, I hope it was not lost on you that the very images of despair that we have in this psalm, the wine of God's judgment, the earthquake and the rejection, are the very things which our Lord went through for you.
(Luke 22:41-42) 41 And he withdrew from them about a stone's throw, and knelt down and prayed, 42 saying, "Father, if you are willing, remove this cup from me. Nevertheless, not my will, but yours, be done."
(Matthew 27:51-54) 51 And behold, the curtain of the temple was torn in two, from top to bottom. And the earth shook, and the rocks were split. 52 The tombs also were opened. And many bodies of the saints who had fallen asleep were raised, 53 and coming out of the tombs after his resurrection they went into the holy city and appeared to many. 54 When the centurion and those who were with him, keeping watch over Jesus, saw the earthquake and what took place, they were filled with awe and said, "Truly this was the Son of God!"
(Mark 15:33-34) 33 And when the sixth hour had come, there was darkness over the whole land until the ninth hour. 34 And at the ninth hour Jesus cried with a loud voice, "Eloi, Eloi, lema sabachthani?" which means, "My God, my God, why have you forsaken me?"
Brothers and sisters, I do not know why a sparrow does not fall without it being the will of our Father in Heaven, I do not know why he numbers our hairs or that our physical abilities tend to peak at 25. I do not know the reasons for so much of your despair. I do not know why David could be out fighting one enemy when his distant relatives decide to take advantage of the situation. I do knot that not one of your experiences is lost on God. I do know that it is most often in our despair that he meets us most closely. I do know that it is so often when we come to the end of our own ability that we meet the strength of God. This is the life, death and resurrection of our Lord, and it is your life, your death and your resurrection with him.
Let me finish the story I began with:
But when he woke up, the strangest thing appeared to him. He wondered if it was a mirage, because about a few hundred yards away, there was a ship, docked with sailors moving back and forth. Eventually, the captain approached him and said the most miraculous thing: 'We saw your smoke signal, and so we came."
Series Information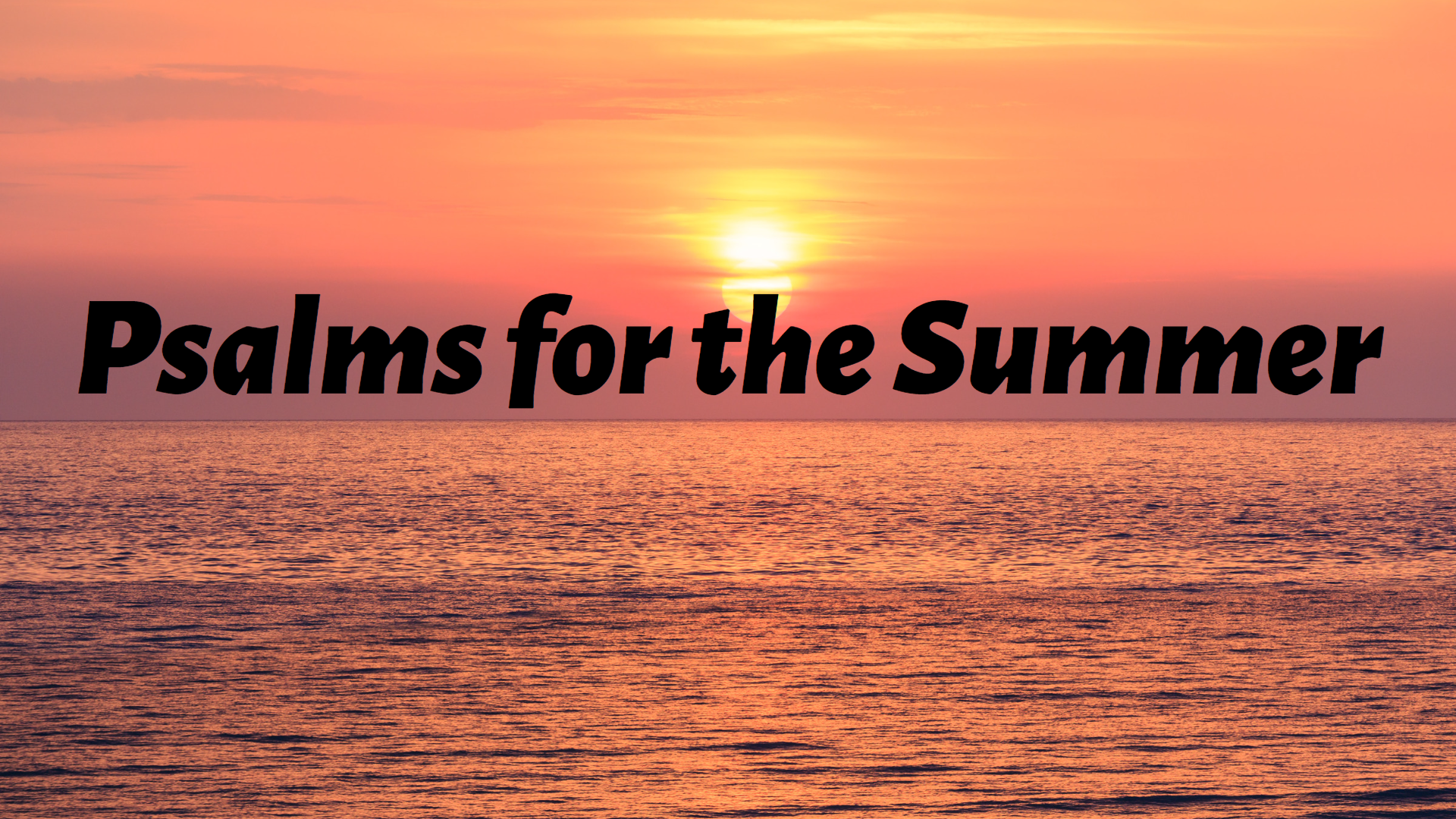 Every summer Peter and an occasional guest speaker take us through the Psalms. Of the Psalms Luther said " the Psalter is a book of all the saints, and everyone, whatever his situation may be, finds psalms and words in it that fit his situation and apply to his case so exactly that it seems they were put in this way only for his sake..."